Fishtown Montessori is Growing!
Our Second Location Opened in the Fall of 2022
We are pleased to announce that Fishtown Montessori has opened a second location at 1212 Marlborough St., offering even more children the opportunity to thrive in an environment specially designed around how they naturally learn.
Over 7,000 sq.ft. of naturally curated outdoor space 

Excellent teacher: child ratios 

Toddlers ages 18 months through 3 years old 

Primary Classes ages 3 – 6 years old 

Qualified teachers with Montessori training
STEP 1
Submit an Application
Get on the waitlist sooner than later, or check out a virtual tour first.
STEP 2
Attend a Virtual Tour
See for yourself why our students are so successful. You can attend before applying.
STEP 3
Visit in Person
Bring your child in for a private tour, a required part of the admissions process.
STEP 4
Finalize Enrollment
Families are invited to enroll on a rolling basis when space permits. Waitlists are common so act fast.
About Us
Fishtown Montessori was founded by a lifelong educator who brings a wealth of knowledge about early childhood development, teaching, learning, curriculum and educational administration to our center.
Fishtown Montessori is locally owned and operated and was founded in 2017 to provide children in the neighborhood with the highest quality early learning environment possible. Our authentic Montessori program follows the guiding principles of the American Montessori Society, which we have been a member of since our inception.
Our Mission is to nurture the curiosity and wonder that inspires learning so that children develop a deep understanding of the foundational skills essential to fulfilling their human potential. We are guided by the following principles: Joy of learning, Respect for and preservation of natural development, cultivating Peace through learning about culture and humanity, and Authenticity in our Montessori programming.
Along with providing an incredibly rich learning environment, Fishtown Montessori is also geared toward providing consistency to working families and is conveniently located in the heart of Fishtown. We run on a typical school year calendar, with dynamic summer programs offered to provide full year care. Our authentic Montessori toddler program serves children 24-35 months old and our two mixed-age primary preschool classrooms are for children ages three through six.
The Curriculum at Fishtown Montessori
Montessori education is a scientific, research-based approach to teaching and learning developed by the Italian scientist and doctor, Maria Montessori over one hundred years ago. Traditional Montessori Curriculum includes practical life, sensorial, language, math, and culture (history, science, geography, art, and cultural studies). Trained Montessori teachers carefully prepare their classrooms with special materials designed to give children hands-on experiences from which they learn. Children in these multi-age classrooms have long uninterrupted periods of work time where they direct their own learning experiences based on their interests and their internal drive for mastery.
COVID-19 Health & Safety
Safety, before everything else, is the most important part of childcare and we take this responsibility very seriously at Fishtown Montessori.
The Fishtown Montessori COVID Policy has become obsolete but, if needed, will return in the future. We are now exclusively following the Philadelphia Department of Public Health (PDPH) COVID guidance.
More on Montessori
We love the Montessori approach to learning in early childhood because we believe it is the most supportive of a child's natural drive to fulfill their curiosity through exploring the environment. Children love to challenge themselves. We invite children to find their next challenge and master it at their own pace, based on their own interests and curiosities. Fishtown Montessori values, trusts and cultivates this intrinsic motivation in hopes that our students will bring it well into their future to enjoy a lifetime of joyful learning.

Learn More
Interested in finding out more about Fishtown Montessori?
We'd love to hear from you!
Contact us here with questions about our programs, admissions, inquiries about career opportunities, or for any other reason.
Someone will be back in touch shortly.
Founder, Head of School, Admissions Director
Denise Spetrino has had the pleasure of working with children and their families for over thirty years, she attained a Master's Degree in Teaching, Learning and Curriculum from Drexel University, a Bachelor's Degree in Elementary and Early Childhood Education From Temple University, and has completed several Montessori education courses at Chestnut Hill College. During her career, Denise earned a level one certification in Educational Administration, and level two certifications in Elementary Teaching K-6 and Early Childhood Teaching N-3. Guided by the question, "What is best for the child?", she opened the doors of Fishtown Montessori on E. Girard Ave. in 2017, and on Marlborough St. in 2022 in order to fill a need for high-quality early childhood education in the neighborhood where she lived for over fifteen years. Denise now lives in Wallingford with her supportive husband and two vibrant children.
Curriculum Coordinator
Sasha comes to Fishtown Montessori after managing a start-up social and learning club for families called Cocoon, in Tribeca in the midst of the pandemic. Prior to that she spent 10 years as a bilingual lead teacher in various schools from Maryland to New York as an AMS certified Montessori teacher for ages 0-3yrs. She has coordinated Twos programs and written curriculum for elite Montessori and elementary visual arts programs in New York City including an International Baccalaureate school in the Financial District. Coming from a multicultural family; mom is Peruvian, dad is a good ol' West Philly boy, and as the oldest of three girls, Sasha learned early the value of diversity, education and being surrounded by a warm caring community. Aside from being a passionate educator she is also a visual artist and aspiring empanada maker. Born in Philadelphia, Sasha returned to her hometown in February of this year when she bought a house in Manayunk with her boyfriend, where they live with their two cats, Koko and Toulouse.
Lead Primary Teacher
Erica earned a Bachelor's in Psychology and a Masters in Elementary Education from Saint Joseph's University. Erica is a certified K-6 elementary teacher, is a certified Wilson instructor and has completed her Early Childhood (Primary) Montessori training with the North American Montessori Center. Ms. Erica is originally from New York where her family owns a learning center where she had tutored children since the age of ten. She watched so many children excel in school and grow into confident learners that she quickly realized that she wanted to be a teacher. Through her extensive experience she understands that students learn best through exploration and are capable of so much when given the freedom to discover and make choices. Erica lives just outside of Philadelphia and has been singing in an acapella choir for many years, she always enjoys incorporating music and creativity into the classroom.
Lead Toddler Teacher
Gus got his start in education at Nature's Classroom, an outdoor education center with 500 acres of forest, streams, and hills. His work there solidified his belief that all children deserve opportunities to explore their natural worlds. Gus received his masters in education in 2012 from The University of Bridgeport. He has 5 years of experience as a lead teacher in progressive early childhood classrooms. Gus was a teacher at Bank Street Head Start in Manhattan and in West Philly at The Children's Community School. His favorite quote comes from educator bell hooks, who said, "Love is a combination of care, commitment, knowledge, responsibility, respect and trust." To Gus, this definition of love is also what children require to be best supported in developing intellectually, socially, emotionally, and physically. He believes in meeting children with creativity, joy, and enthusiasm each day, and is so excited to join the team at Fishtown Montessori. Gus has been living in Fishtown since 2020, when he's not in the classroom you can find him rollerblading on the Delaware River Trail with his boyfriend or walking his dog at Penn Treaty Park.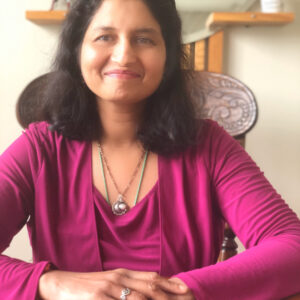 Lead Primary Teacher
Payal Shah comes from an extensive background in Montessori education and early childhood development with about 14 years of experience. She earned her formal degree in early childhood development from Adrian Montessori Academy in Michigan. Payal says, "As a child brings out a parent in a person, the children of my classroom brought out the teacher in me."
Payal is dedicated to bringing out the best in your child, endeavoring to help your child find their passion, enabling them to dream big, and creatively engage them in its pursuit by providing them an environment for their overall holistic development as visioned by Maria Montessori.
Lead Toddler Teacher
Ms.
My
joined the Fishtown Montessori community as a toddler Montessori teacher upon our expansion in 2022. She has been a Montessorian for over 17 years, leading both toddler and primary classrooms, and has earned a Montessori certification for early childhood education at the primary level. Ms.
My
and her husband have two children and two cats, Cloud and Nimbus. She enjoys cooking, decorating, yoga, Zumba and taking long nature hikes with friends. She looks forward to guiding
your
little ones through exploration and a love of learning.